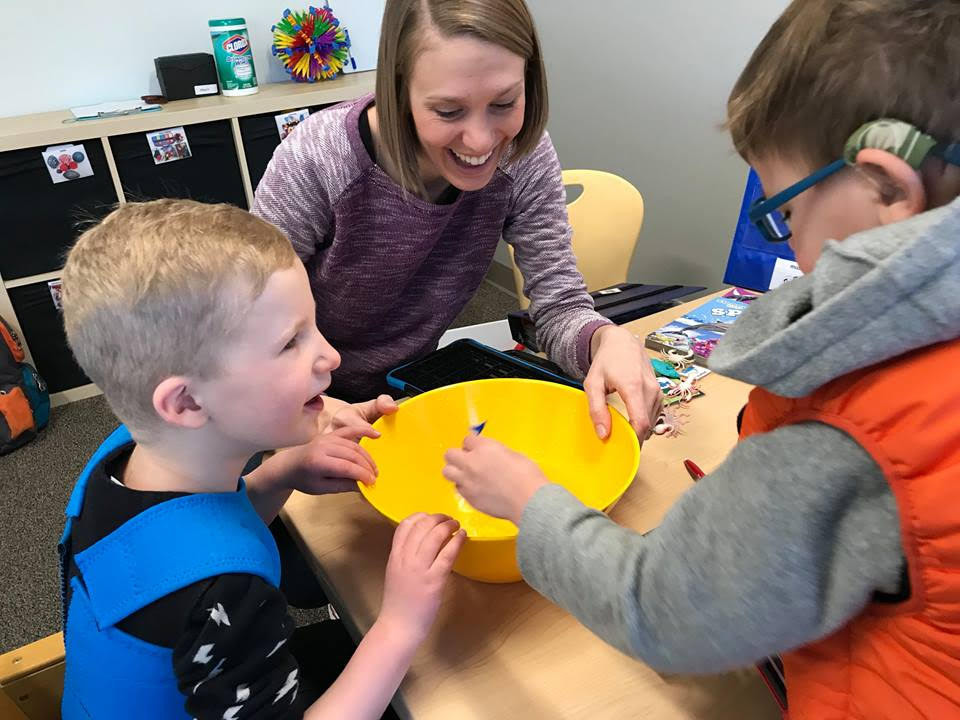 We are a group of Speech-Language Pathologists and occupational therapists dedicated to working with individuals who have limited or no speech and/or significant physical disabilities.  We are active listeners and collaborators who work closely with individuals, their families, caregivers, school teams, and providers to assist with developing and increasing communication skills.
"Communication is the essence of human life" – Daniel Webster
Augmentative and alternative communication (AAC) evaluations
We offer a variety of different speech-language evaluations. They focus on the use of AAC technology, tools, and strategies which may include communication devices and communication applications for iDevices.
Occupational Therapy Evaluations for Assistive Technology
Positioning evaluations
Positioning evaluations focus on providing an individual with optimal postural support within an adaptive seating system or mobility base (such as an adaptive stroller or wheelchair) to increase stability and function.
Access evaluations
Access evaluations determine the optimal method an individual uses to control an assistive technology device, such as a communication device or tablet. These access methods include Direct, Head Pointing, Switch, and Eye Gaze. Ongoing training to develop access skills is also available.
Mobility evaluations
Mobility evaluations are for an individual to optimize his/her independent mobility through a properly configured manual wheelchair, adapted ride-on toy, or a power wheelchair. Independent mobility has strong links to overall development.
Sleep Positioning evaluations
Many individuals only spend a few hours in their primary seating system out of 24 hours. The positions the individual spends the rest of their day, particularly during sleep, can quickly lead to loss of range of motion and orthopedic changes. Sleep positioning identifies and supports a position that maintains range of motion while encouraging a good night's sleep.
Speech-language therapy, focusing on use of AAC technology and tools
We provide individual speech-language therapy using communication devices, apps, pictures and strategies to help individuals develop and increase their communication skills.
AAC group therapy
Group therapy for individuals who use AAC technology to communicate.  Group sessions are with peers who also communicate using AAC technology.
AAC consultations and training
Customized to meet the needs of individuals, families and teams.
Family training
Customized to meet the needs of families.
Remote video consultations
Customized to meet the needs of individuals, families and teams.
Customized to meet the needs of individuals, families and teams.